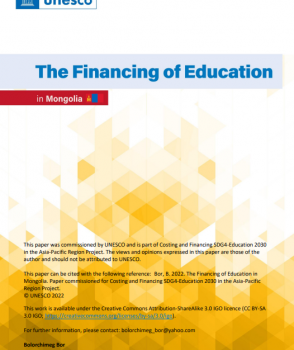 The financing of education in Mongolia
Зохиолч/ Орчуулагч
Bolorchimeg Bor
Хэвлэсэн газар
UNESCO Bangkok Office
ТАНИЛЦУУЛГА
Since the adoption of the Incheon Declaration and Framework for Action for the implementation of Sustainable Development Goal 4 (Education 2030 Agenda) by UNESCO Member States in 2015, the financing of education has remained a major topic requiring concerted attention. The Education 2030 Agenda recommended national education expenditure of at least four to six per cent of the national GDP, or fifteen to twenty per cent of the national budget.1 Precise and all-encompassing finance data is essential to monitor spending efficiency and to account for the allocation of financial resources.
Education financing is typically administered by a national ministry of education and in decentralized governments, the subnational bureaus of education. However, other sectors and ministries, such as labour, health, children, women and other welfare and resources-related organizations contribute to education finances. Being able to discern the spending of each governmental institution with a stake in education financing, for each education level – for all students, for the entire teaching force, as well as for the physical education infrastructure, for example, ICT, WASH – it is important to develop credible, traceable and feasible education policies and plans.
Many Member States face organizational challenges in accounting the spending on education across all ministries, for all subnational administrative levels of government, as well as among their populations' households. To address shortcomings in education financing under the Costing and Financing SDG4 – Education 2030 in the Asia-Pacific Region programme, UNESCO Bangkok, with technical advice from the regional office of the UNESCO Institutes for Statistics (UIS) and financial support from the Korean Funds-In-Trust (KFIT), seeks to strengthen the capacities of its Member States in the financing of SDG4.
https://unesdoc.unesco.org/ark:/48223/pf0000384386.locale=en